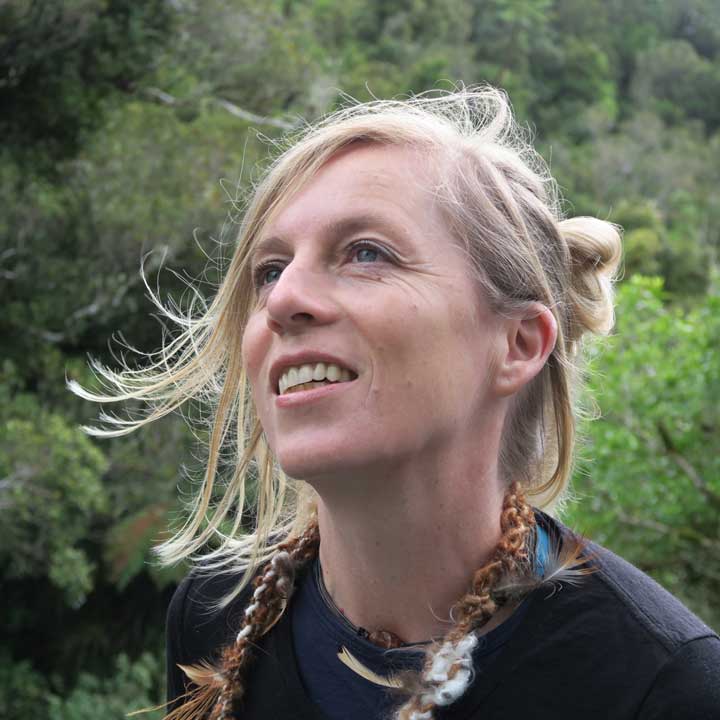 I am Isla, an artist living in Aotearoa New Zealand. Raised by the Baltic Sea and adopted by the Southern Ocean, I feel deeply at home in the natural world.
Currently I co-create with muka, the inner fibre of harakeke. My intuitive process starts with individual plants I regard as personalities.
Each of my artworks is rooted in the natural world. Natural fibres and colours from the land are my medium. Growing, gathering and processing these living things with attention, respect and love are at the heart of my practice.
I have a passion for the twirling act of hand spinning. When I spin I feel connected to something bigger than me. I'm in the flow - free to play with ideas and techniques. The resulting innovative yarns are the building blocks of my multilayered fibre pieces.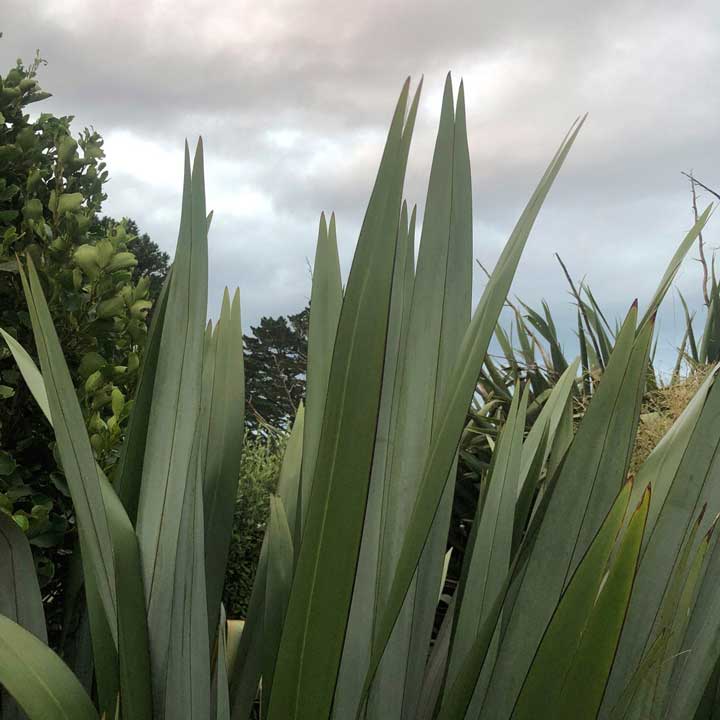 It is important to me to take time for my explorations. Time to engage with every moment - to observe, feel, listen... to come home to the world via my senses. Time to feel the connection with Papatūānuku / Mother Earth and all beings coming from her. Time to practice reciprocity, connection and oneness.
I like to call this slow process time-receiving versus time-consuming.
It is a journey into magical realms and the unknown. It's the reason why I feel driven to create art.
My current work emerges from an intimate dialogue with muka*. I'm particularly interested in Māori and Polynesian wisdom, the similarities between indigenous practices all over the world and how they relate to my own Baltic Sea heritage.
This is an ongoing exploration of connection to place, the nature of interbeing*, and where we belong beyond human society.
...
* muka is the inner fibre of harakeke. Harakeke is also known as Phormium tenax or New Zealand Flax.
* interbeing is a word coined by Thich Nhat Hanh, meaning nothing can exist without everything else in the cosmos.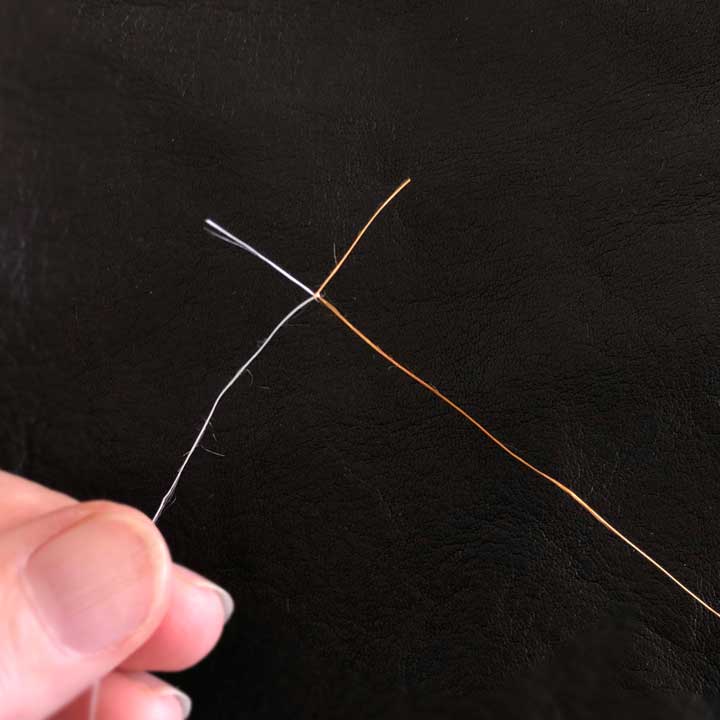 Bio
I was born on Rügen - an island in the Baltic Sea and raised in the German Democratic Republic (East Germany) - a socialist country which no longer exists.
I studied Interior Design and Communication Design in Germany, and lived and worked as a Freelance Designer in Berlin, Italy, Ireland and Aotearoa New Zealand.
In 2011 I learned spinning in Ireland, which sent my artwork in a new direction towards natural fibre creations.
In 2012 I moved to Aotearoa New Zealand, where I am now exploring Taranaki's shores. This place, created by mighty Maunga Taranaki, with it's magic rain forests and surrounded by the sea provides me with all I need - material and spiritual.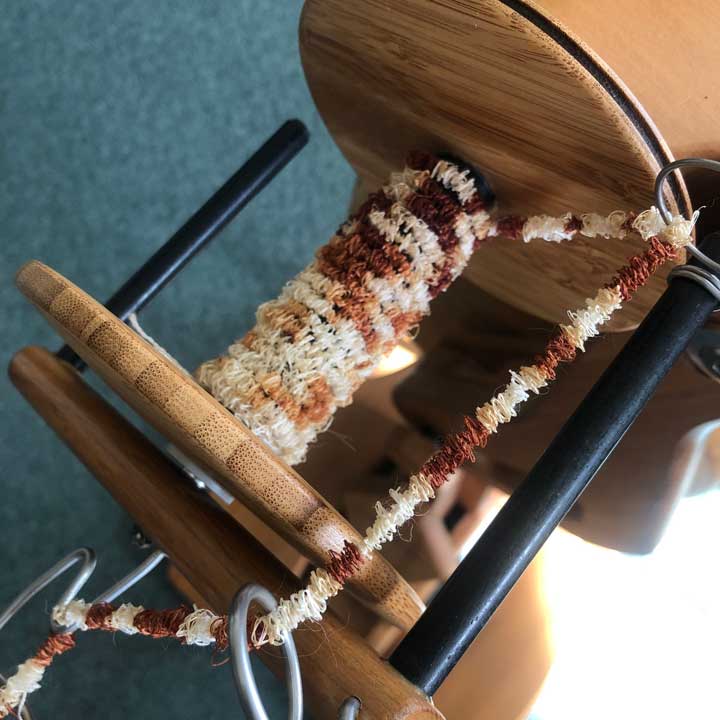 Te Harakeke, Te Korari
Ngā taonga whakarere iho
O te rangi. O te whenua. O ngā Tupuna
Homai he oranga mō mātou
Tihei mauri ora
...
Harakeke
the treasure passed down to us
by the sky, the land, the ancestors
gives us health
for our life force
(traditional Māori karakia / prayer)
Exhibitions
Dreaming of the Future. from out of the blue studio gallery, Ōpunake (Aotearoa New Zealand) - January 7th - February 15th 2021
Reflections - the Art of Lockdown. Percy Thomson Gallery, Stratford (Aotearoa New Zealand) - December 18th 2020 - January 24th 2021
Home Work Taranaki - Tuku Iho, Puke Ariki, New Plymouth (Aotearoa New Zealand) - September 2020-February 2021
Woven, from out of the blue studio gallery, Ōpunake (Aotearoa New Zealand) - August 2020
Listening to the Land - an Exploration of Connection to Place, Collaboration Exhibition with Sally Hikaka and Hugh Cargill, New Plymouth (Aotearoa New Zealand) - October 2019
I am WOMAN, Percy Thomson Gallery, Stratford (Aotearoa New Zealand) - November 2018
The Cutting Edge, Arts in Oxford Gallery, Oxford (Aotearoa New Zealand) - September 2018
Taranaki National Art Awards Exhibition, Ōpunake (Aotearoa New Zealand) - October 2018
Rising, Lysaght Watt Gallery, Hāwera (Aotearoa New Zealand) - March 2018
Fibreforce, Lysaght Watt Gallery, Hāwera (Aotearoa New Zealand) - December 2017
Down to Earth, Percy Thompson Gallery, Stratford (Aotearoa New Zealand) - November 2017