Colours of the Land
30 May, 2019
"When we use botanical dyes, we're doing more than just putting colour to fabric (fibres), we're encoding the fabric (fibres) with a memory of a plant, a reflection of a place and time." Nancy Traugott, Selvedge Magazine, Issue 57
Many of the New Zealand natives were flowering like crazy this year and I have never seen so many Harakeke (NZ-Flax) flower stalks before - it was amazing! However being overseas in February, I missed the seed pod peak season. So when we came back I really dived into it and spend every day with my favourite dyeing plant.
And it wasn't hard at all, because I'm falling in love with this process over and over again: the beauty of my gathered treasures, the smell of freshly cut seed pods, my orange fingers - the whole dyeing and colour excitement.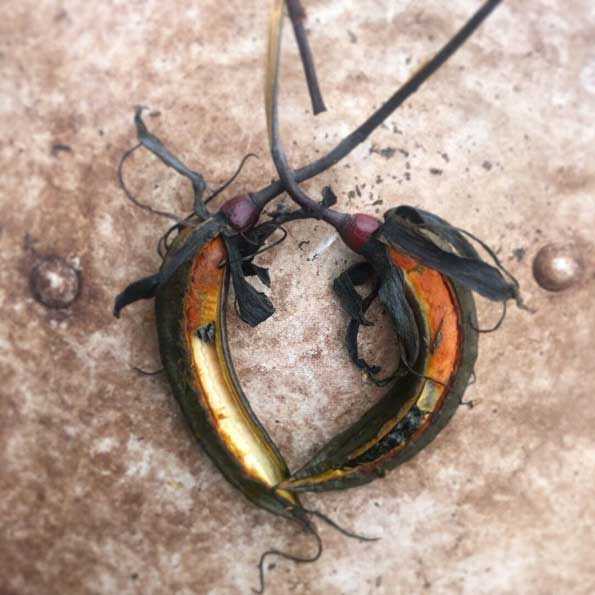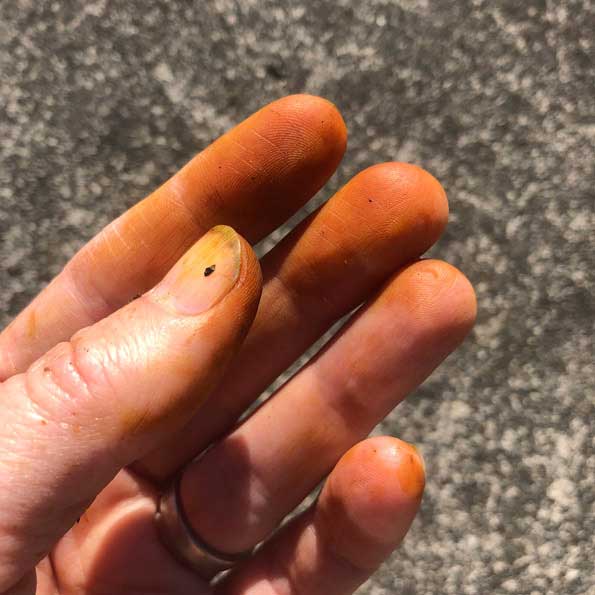 This season I started with a local white Romney fleece and OMG the glowing colours on that one just blew me away. I achieved different shades only by using the same dye bath a couple of times until it became almost exhausted. Top to bottom in the following photo: first, second and third dye bath. no mordants.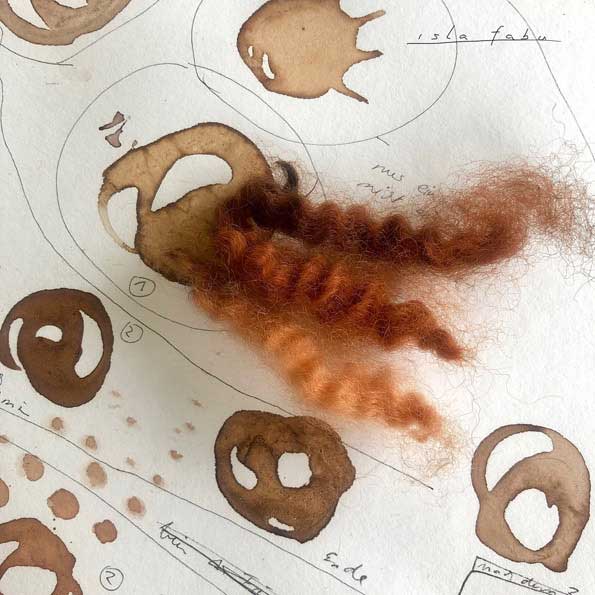 My next experiment was about tie-dyeing a variety of hand spun and mill spun yarns. Apart from the usual white I tried grey Gotland wool and couldn't be happier with the results. Definitely something I'm going to do more in the future.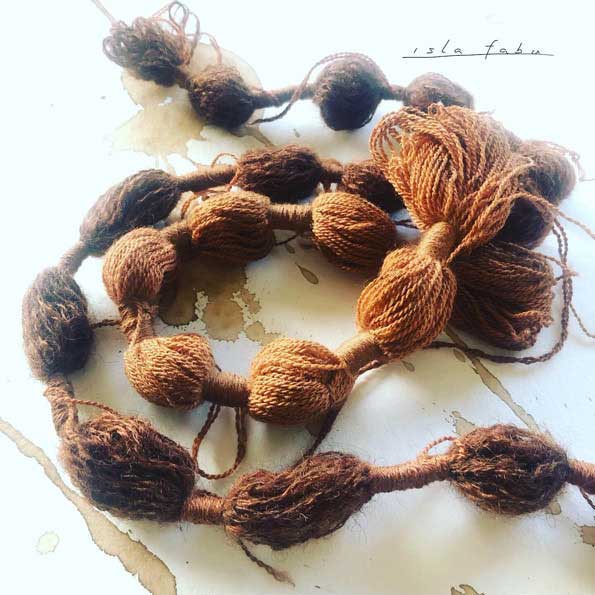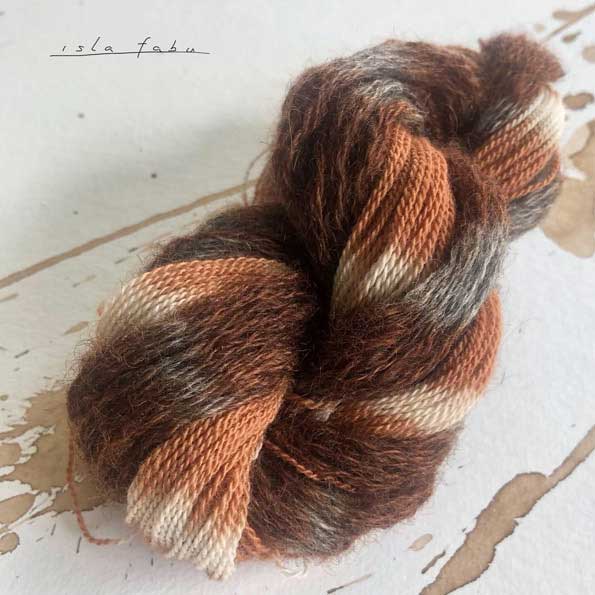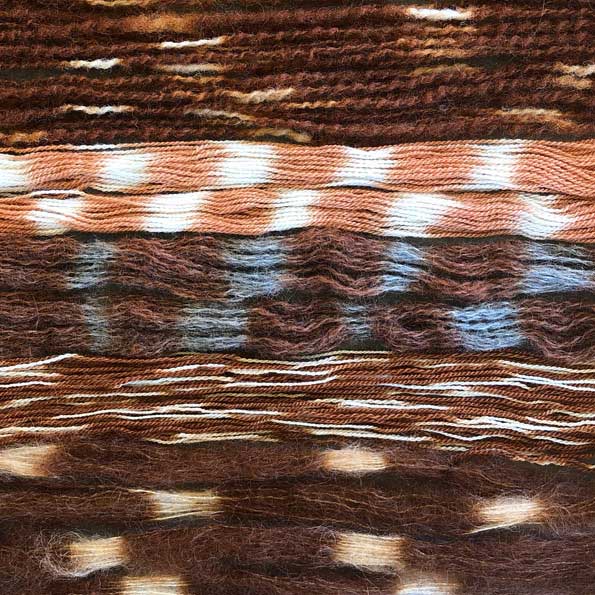 There they are, all the different Harakeke seed pod shades on wool and mohair yarns.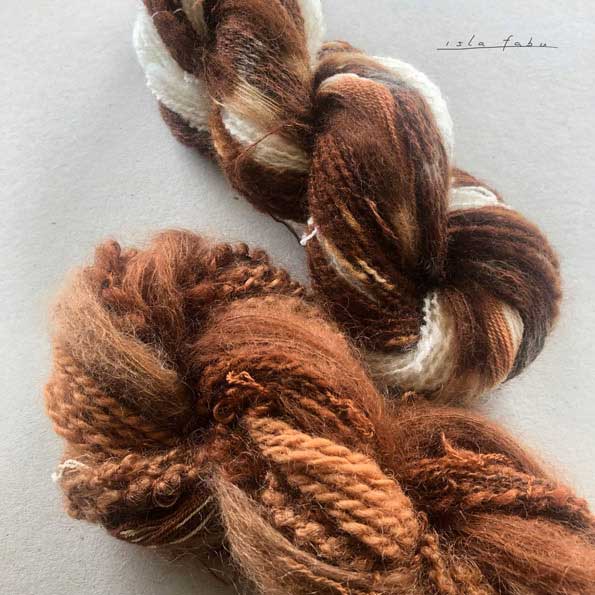 For certain projects I love incorporating fabrics, because of their contrasting qualities to the yarns I'm using. Recycled Silk fabric is one of my favourites and the golden shades I get from Harakeke seed pods are just brilliant next to the rusty browns on wool and mohair.
I also put a piece of cotton fabric in the dye pod. The deep brown was a little bit of a surprise, as cotton is a plant fibre which usually doesn't take dyes very well. But the seed pods do wonder and I've been using this piece repeatedly to strain the seed pods. Which means it wasn't white any more. However I feel there are possibilities with plant fibres and Harakeke seed pods for further experiments. Dipping a few white dove feathers in and playing with marks on paper was extremely enjoyable too.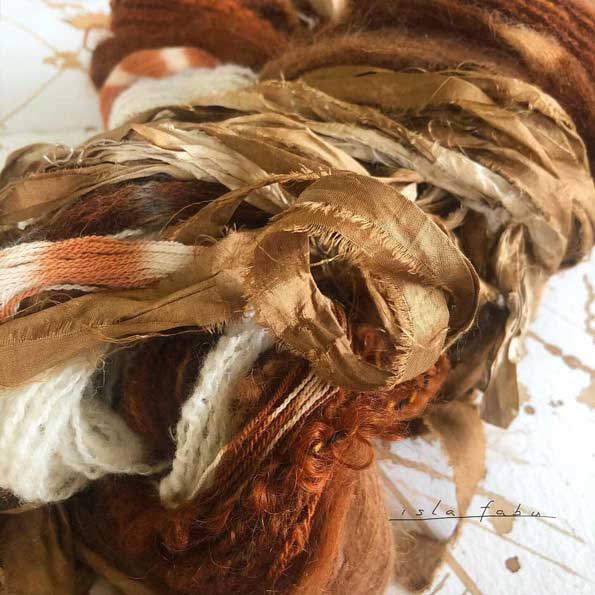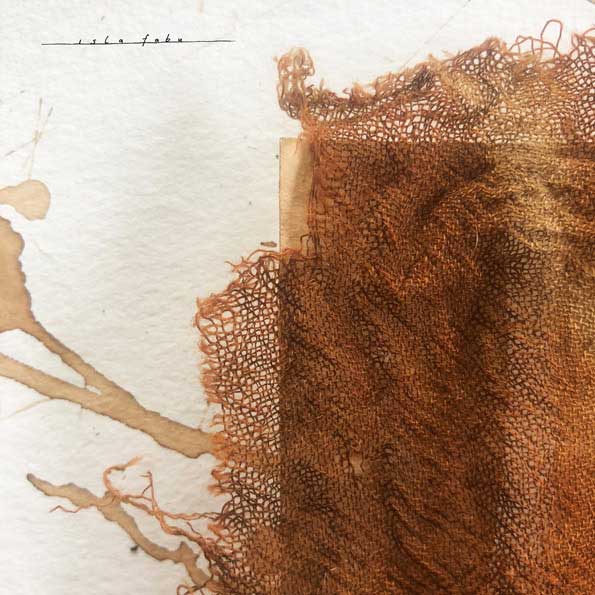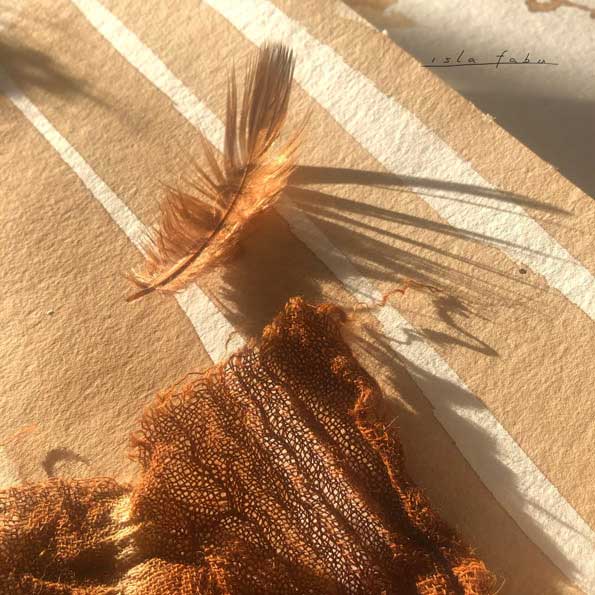 Muka, muka, beloved muka! In December my friend Sally and I cleaned up my "Isla" plant (muka is the fibre you get from the Harakeke leaves) Some of the leaves we harvested I used for dyeing this year. And look at them!!! the resulting colour palette is just stunning! And again, there are no mordants involved, just different soaking and boiling times. The first picture shows how the muka fibres look like after I fermented them with the seed pods for a few days. I found that there is actually no boiling required after that, although the colour will be different in the end.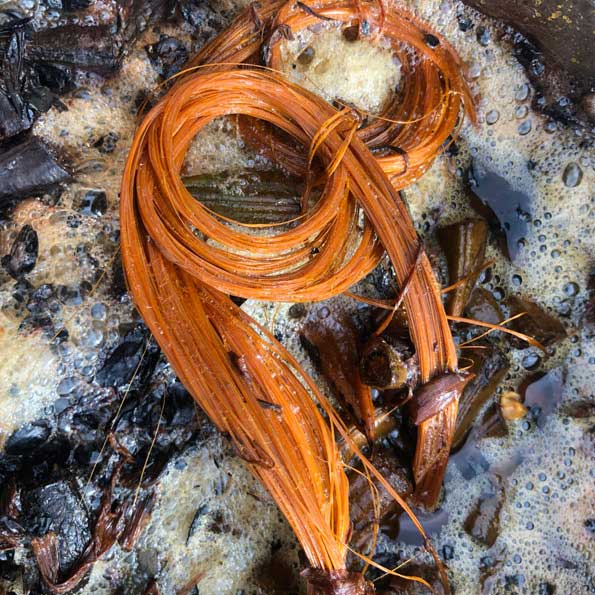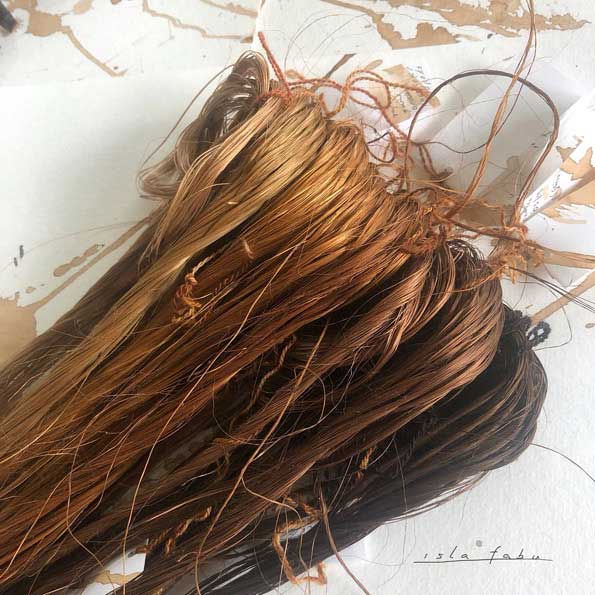 Last but not least I achieved gold on silk sliver and a beautiful greyish brown on corn husks. These husks are really tough and boiling didn't do them any harm.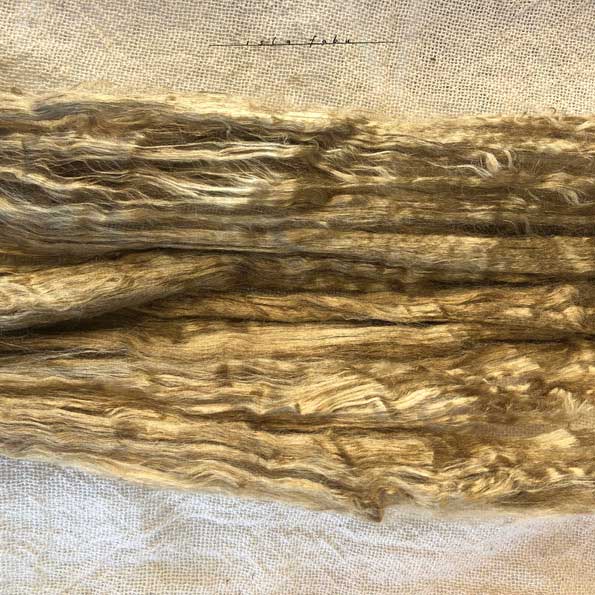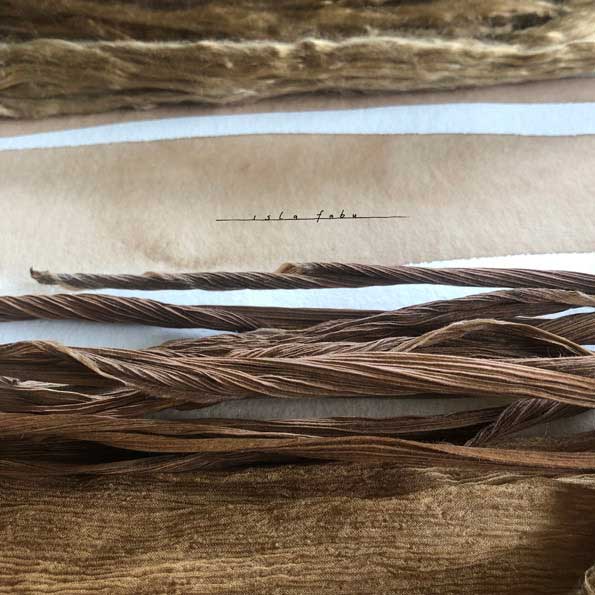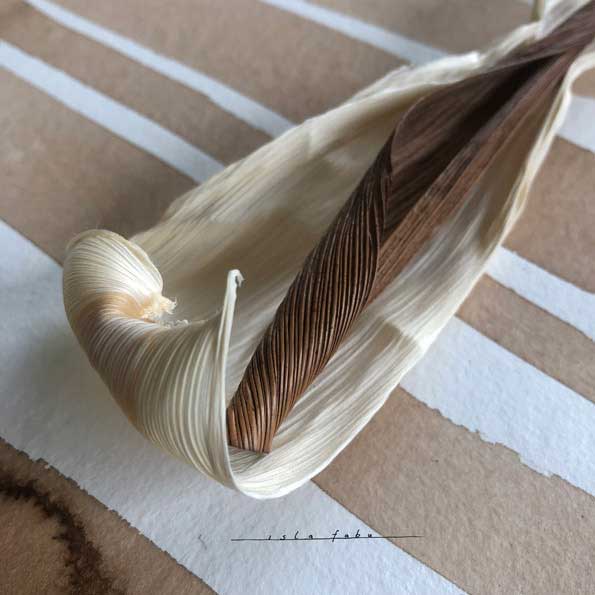 I had such a fantastic late summer playing with the pods and fibres that I'm filled with anticipation for the next season. However there is always something else to explore, and yes there is a weaving in the air where I'm going to combine all those Harakeke seed pod fibres. Stay tuned my friends.
If you would like to know how to dye with Harakeke seed pods, check out my blog post from last year: http://www.islafabu.com/blog/natural-dyeing-with-harakeke-seed-pods
Tags: natural fibres, fibre art, eco dyeing, natural colours, natural dyeing, harakeke
For more of my recent work find me on Facebook and Instagram.